Providing 100% Chemical Free Steam Cleaning For
Healthy Indoor Environments!
We're different!
We are committed to providing a non-toxic and thorough bacteria cleaning and soil removing cleaning process, which is fundamental to the health and well-being of YOU our clients and our employees.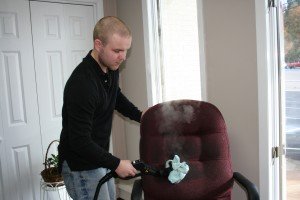 About us
Being passionate about the health and well-being of people led us to start a cleaning company. However, we did not want to subject our crew or clients to the harsh chemicals traditionally used. As we formed our business plan we wanted to make our services environmentally friendly safe and effective.
Family owned and operated –Fully bonded and Insured – located in Johnson City, Tennessee.  Using the latest in steam technology – TecnoVap Technologies from Italy.
We are not here to replace your regular cleaning crew, but instead to supplement their cleaning to ensure complete sanitation!
Our Steamers are the most powerful steam cleaners on the market, using steam up to 380ºF killing 99.9% of all germs and bacteria.
Our steam machines have been the subject of studies at various institutions, notably the University of Verona, Italy, where they demonstrated  powerful antibacterial performances and efficiency. Economize on water use, and energy consumption all while saving money. What A Relief Steam machines use as little as 1L of water per hour, 130 times less than a pressure washer.
Our management team